About The Author
Sean McPheat
Sean McPheat keynoting at the ISMM's (Institute of Sales & Marketing Management)
Successful Selling Conference at The Ricoh Arena on using social media to prospect and sell
Sean McPheat has been referred to in the sales industry and media alike as a thought leader and sales futurist.
Sean is also a much sought after media figure and motivational speaker on all topics related to sales, business improvement and entrepreneurialism.


Founder and MD of international sales training firm MTD Sales Training, MTD have delivered training, coaching and consultancy to over 2000 different organizations and 50,000+ staff from 23 different countries. Sean leads a team of 25 of the most effective sales trainers in the world and has appeared on TV on several occasions as an expert in the field of sales development.

Sean is an international author and being a finalist in the 2007 British Business Awards for his Entrepreneurial achievements, Sean knows what makes businesses successful. He was featured in the 2009 Who's Who of Britain's Business Elite and since 2008 he has been a regular judge for the UK's Young Enterprise Programme but was not as horrible as Simon Cowell (well almost!)


Sean has been featured on CNN International, the BBC, ITV, The Guardian, Arena Magazine, Marketing Weekly, The Hong Kong HR Journal and radio stations such as BBC WM, Insight Radio and LBC (London's Big Conversation) and has over 250 other media credits to his name.

Sean is the author of the "The Sales Person's Crisis", an insightful look into the challenges that face the modern day sales professional. That report has been downloaded over 20,000 times on the internet.
Sean has also recorded a groundbreaking Sales CD Programme called "Drive Time Sales Strategies - 39 Practical "HOW TO" Sales Tips While You're On The Way To The Sale" which has been specifically recorded and produced to listen to while you're in your car or on the move.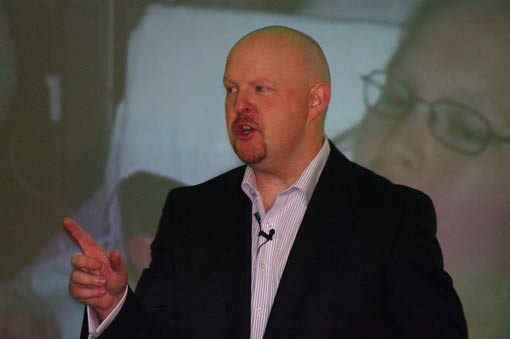 Sean McPheat, creator and bestselling author of eselling®,
delivers a keynote for 400 IT professionals on the subject
Sean McPheat gives his keynote eselling® talk to over 1,000 sales professionals
at the ISMM's Successful Selling Conference at the Ricoh Arena
Sean McPheat presents two sessions on his modern day approach to selling via
social media and the internet at his own Sales Summit conference in London

Having built MTD Training from a bank balance of zero he's living proof that with hard work and the right strategy, that anything is possible!

Sean's weekly email tips go out to over 60,000 people interested in sales and management and he is now very proud to offer you his latest and unique approach to modern day selling - eselling®.
Want To Make An Enquiry?

0800 849 6732
info@e-selling.com